Vibro-air method filter fabric cleaning service
Vibro-cleaning service costs approximately 1/5 of new filter replacement. When compared with the case where a new filter fabric is replaced every time, the cost reduction of about 40% is estimated.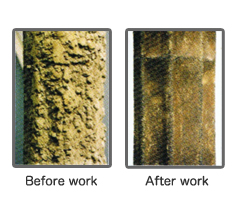 Asphalt plant is now...
In asphalt plants where recycled waste materials are used, oil mist remained on filter fabrics of bag filters causes clogging. Because of that, the increase of pressure loss occurs and it affects the normal operation. Also, the life of filter fabrics is decreased than ever before by the clogging and the replacement cost will be also increased. The vibro-cleaning will clear this problem.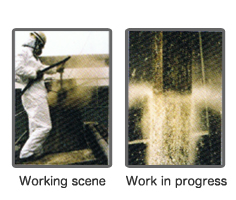 Great advantage to the economic and transfer efficiency
Our vibro-cleaning service will remove clogging of filter fabrics and recover the filter effect as good as new. It will extend the life of filter fabrics to the extent similar to when using virgin plied timber only in the past. Also, it is lower cost compared with the replacement of filter fabrics and there is no adverse effect on our operations as it can be finished in 1-2 days working hours after stopping plant or on weekends, etc.